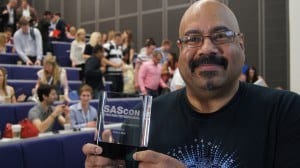 I was very privileged to be honoured earlier this month at SASCon 2013. I was presented with the first "Outstanding Contribution to Digital" award for my part in co-founding and developing WordPress.
The press release says: "The award acknowledges Mike's instrumental role in setting up and developing the first version of WordPress. Teaming up with Texas-born Matt Mullenweg in 2003, the pair created the blogging platform, which has gone on to become the most popular content management system in use on the internet."
Richard Gregory, one of SAScon's founders, said:
" There isn't a single digital marketing agency that hasn't made generated income by building WordPress websites, and we are honoured to be able to recognise him with this award."
Keynote Interview
I was also a keynote speaker at the event where I was interviewed by Richard in front of the conference delegates. I then answered some interesting questions from the audience. The event was video recorded and I hope the interview will be published online at some point soon.
Finally, Richard presented me with the outstanding contribution award with some incredibly kind words. It was quite moving to receive the award which will take pride of place in my office.